Hello lovers!!!!
This is it, my big thank you to you, dear followers!!!
As mentioned in my previous post, last week, I miraculously jumped from 99 followers to 112!!!! Quite impressive, and I have to say, I feel the L.O.V.E!!!! I'm pretty sure that the Rainbow Jello post had a lot to do with that!!! I can see now that you like those kinds of food that are easy, lots of fun and have that whoa factor. So I'll try my best to make more of those, promised!
Getting back to my thank you; Thank you for your support, your comments, your sharing etc… I began writing this blog just 3 months ago, and it has been a lot of fun. I'm assuming, if you are reading this, that you are a food lover. You know who else in the news was a BIG food lover? Julia Child!!! If you don't know who Julia Child is, I would assume you haven't turned on your TV or went out of your house those past couple of days…
Yesterday, August 15th, would have been Julia's 100th birthday. Unfortunately not of this world anymore, but she will be forever present in the food stratosphere! Thanks to her, French cuisine has been revealed to all North America, been a good cook is accessible to anyone, and food shows are now a multi million dollar industry! Of course our food shows nowadays are not nearly as fun and awkward as Julia's presentations, but she did open the door to all great chefs to get on the stage and show little at home chefs like you and me, that cooking doesn't have to be complicated. Just throw yourself in it and have fun!
"This is my invariable advice to people: Learn how to cook- try new recipes, learn from your mistakes, be fearless, and above all have fun!"
― Julia Child, My Life in France
One of many quotes, that I absolutely love from her! And as a cook, I can find myself represented in some of her most famous quotes:
"The only time to eat diet food is while you're waiting for the steak to cook."
"The best way to execute French cooking is to get good and loaded and whack the hell out of a chicken. "
"Everything in moderation… including moderation."
… and many more (you can find some here )
But the one that suits best this post would have to be: "I think every woman should have a blowtorch." I love this one, because it's like she is telling women to be fearless in the kitchen just like that. I mean, have you ever used a blowtorch in the kitchen? I have been for a while, but let me tell you, the 1st few times, I was freaking scared!!! to : burn myself, burn others, burn my entire kitchen, and burn my food!!! It is a weapon!!! But she is right, with a blowtorch, you achieve some beautiful desserts such as meringue (refer to my post: Lemon Meringue cupcake) or this delicious Crème brûlée. Get one today, it is a must have in your kitchen! (and you can, eventually, use it for other things, crafts, repair your sink…)
There are many variations to Crème brûlée, but this is Julia Child's. So I though, since every restaurants and foodies alike out there are paying tribute to Julia Child, it was appropriate to use her recipe.
Bonus link: Please check out this video of Julia Child, definitely one of my favorite!!!! As usual, she is not afraid of making a fool of herself, because she is herself! And you can see her using an actual blowtorch!!! Priceless!!! On Youtube
I did not change anything to the recipe, only I used white granulated sugar instead of light brown sugar to do the top caramelized crust. That was a trick from my dad. As a caterer, it had this dessert on his menu for the longest time, and using white sugar makes the crust hard and glossy, forming like a beautiful caramelized shield, that you take pleasure to tap and crack!!! HUMMMM, this is the best part!
So like Julia would say:
"Bon A Petiet!"
Link to the recipe for Crème brûlée
You might also like: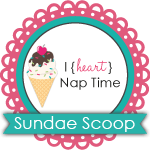 Update August 22nd 2012:
This post was featured in the top 16 (out of 300+) best posts on Friday Features, on this amazing DYI and recipe sharing blog: WhipperBerry. Thank you so much for your support Heather, and thank you all for your interest!!!
Love xoxo
Tartine